Description
Bathroom LED Illuminated Smart Mirror
Prioritize your personal comfort
Upgrade your lifestyle with Smart Mirrors – the comfort you truly deserve! Choose our state-of-the-art LED mirrors, redefining functionality and contemporary design. Elevate your bathroom decor with a touch of elegance and unlock effortless access to a world of media and convenience.
Our Smart Mirrors stand out with their exceptional craftsmanship, energy-efficient LED lighting, and access to must-have apps from the App Store and Google Play. Transform your daily routines with customizable LED mirrors that enable you to enjoy your favorite music, track your fitness progress, watch videos, and effortlessly manage your correspondence – all at your fingertips.
Personalize your illuminated mirror to suit your unique needs
Select your preferred shape, frame and LED color options, and arrange your widget view with ease. With a wide range of sizes and LED light tones, you'll discover the ideal mirror to match your individual requirements. Plus, with added electronic components, your personalized mirror becomes a functional and aesthetically pleasing gadget that seamlessly complements modern, Scandinavian, or loft-style interiors.
Our Smart interactive mirrors aren't just modern accessories; they're essential conveniences for everyday life, enriching the lives of all household members. Don't miss out on the future of comfort – embrace Smart Mirrors today!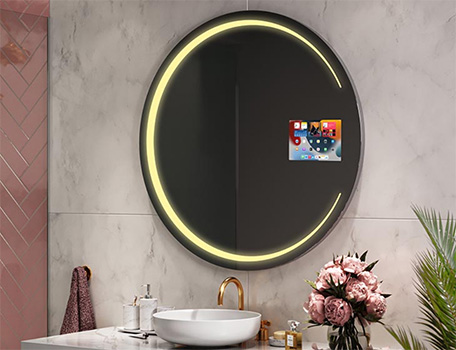 Let's illuminate your vision and embark on the journey to a smarter reflection. Configure your dream Bathroom Smart LED Mirror today!