Ceramic Tiles and Bathroom Equipment
Paradise Living offers high quality ceramic tiles, bathroom equipment and accessories – all imported from Europe. With a big inventory selection and many stylish patterns – our products can be combined and lots of different variations can be created to suit every taste. Introduce us an idea an see how it is becoming reality!
Kitchen Design and Construction
Discover contemporary kitchen design in Chicago with custom cabinets by Paradise Kitchen and Bath. Enhance both the visual appeal and practicality of your kitchen space with our tailored modern cabinets. We specialize in creating bespoke solutions that not only elevate the aesthetics of your kitchen but also optimize its functionality. Start your kitchen transformation today!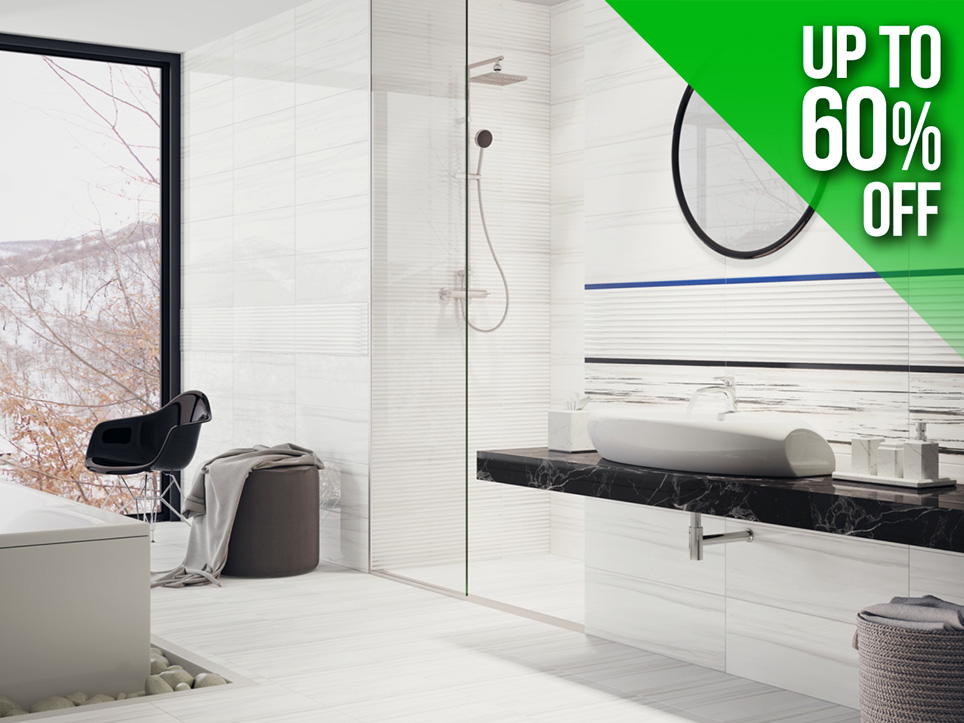 Three types of wall tiles with lines, stripes and streaks motif in different versions.
View tiles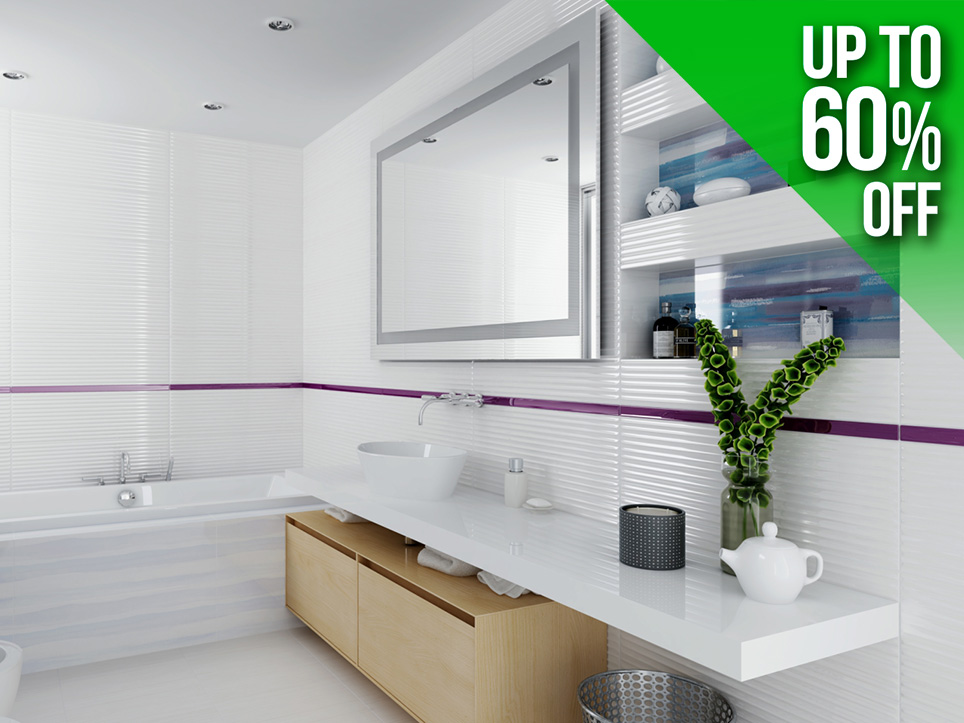 This collection explores the many shades of blue – the color appears in the three decorative ceramic tiles.
View tiles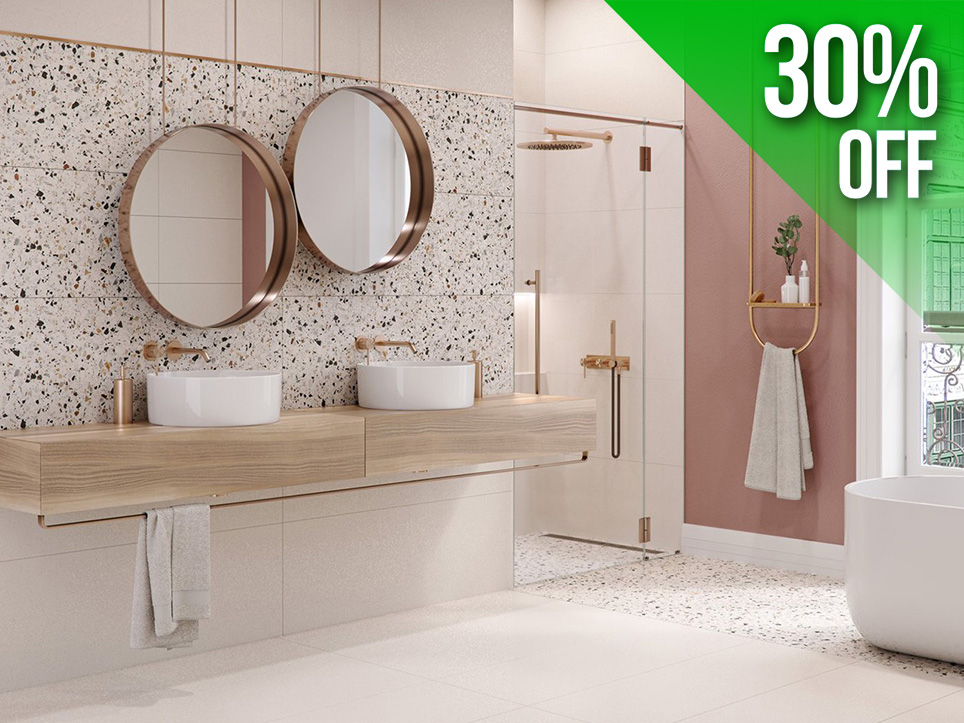 Large-size gres tiles with the verycharacteristic look of lastrico. Their light basecolour and large size make the bathroom appear bigger.
View tiles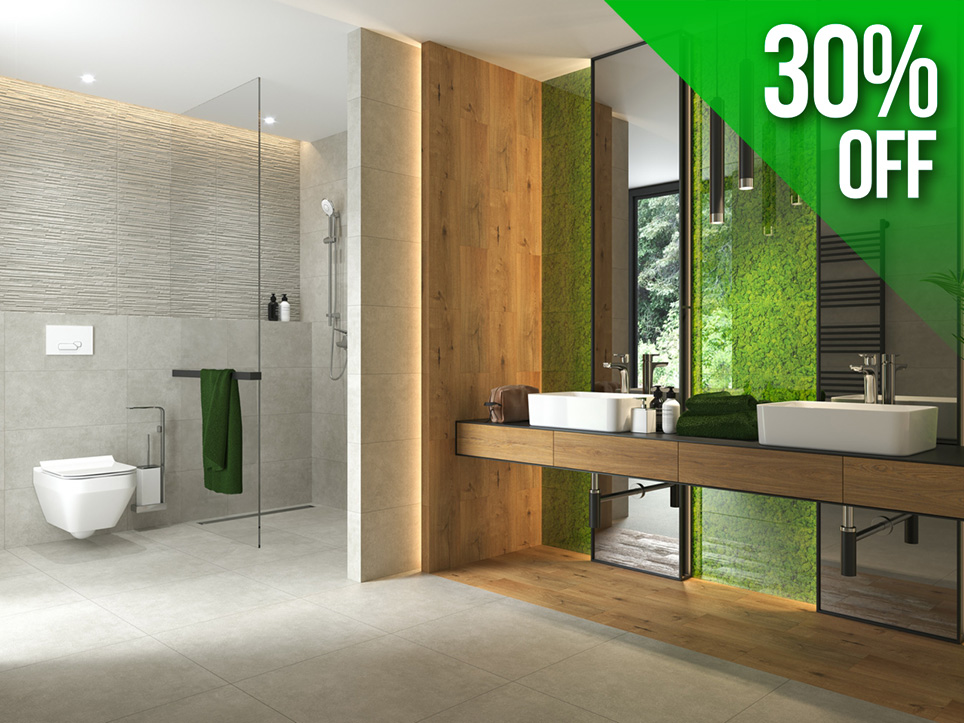 Create modern interiors with remarkable natural accents. Tiles imitate raw concrete and green moss.
View tiles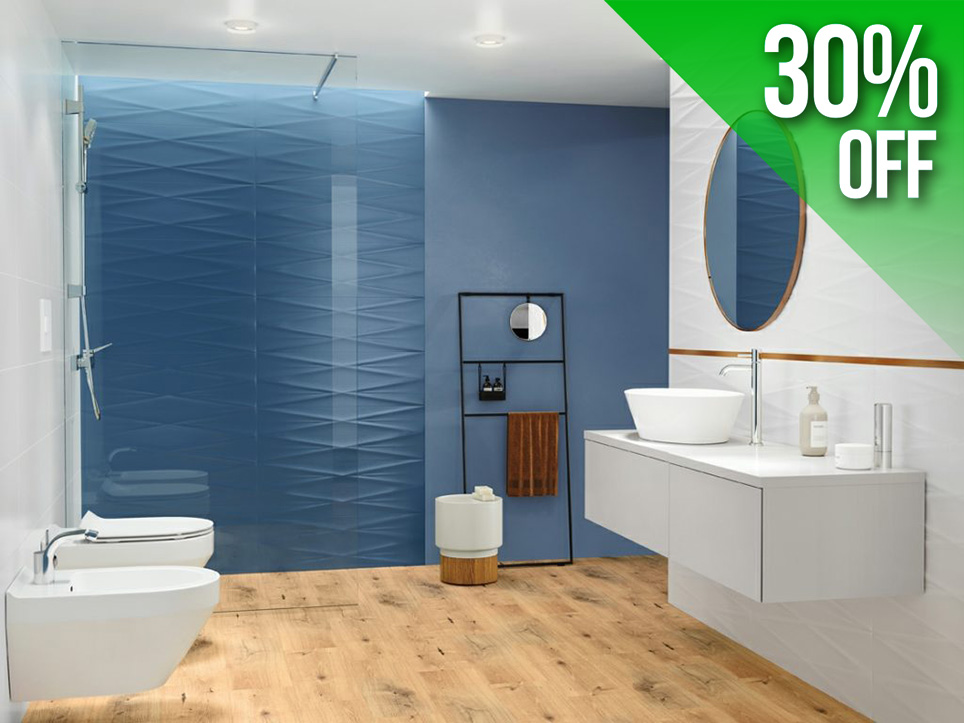 Combines the strength of fashionable deep blue and the delicacy of classic white. Fits perfectly into different styles of interior.
View tiles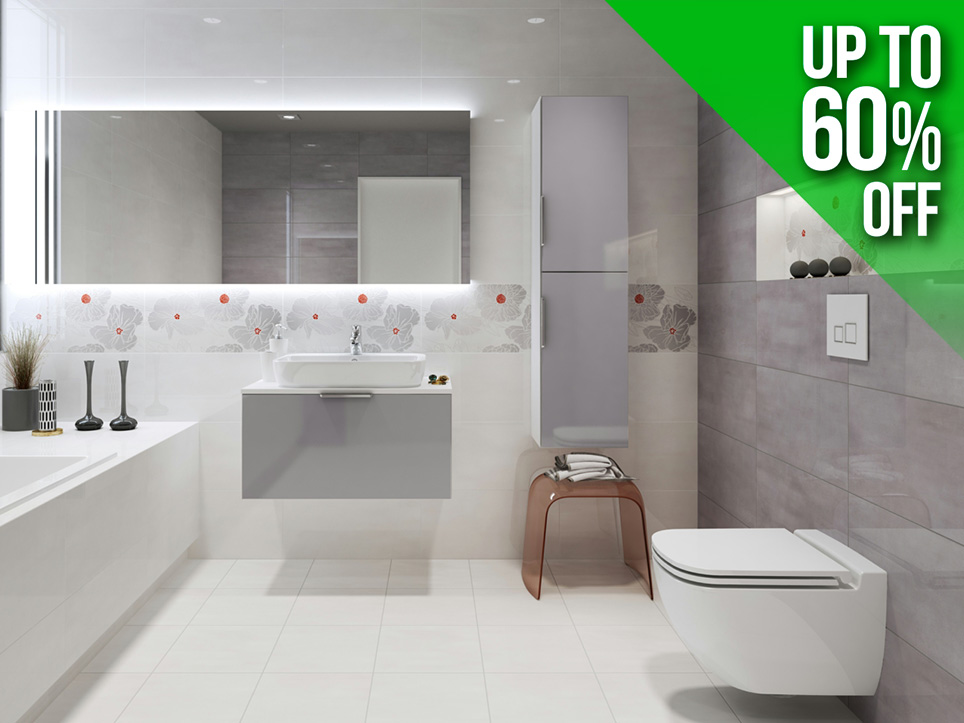 The aesthetics of a concrete texture is combined with two different versions of flowers to add a natural touch of the bathroom.
View tiles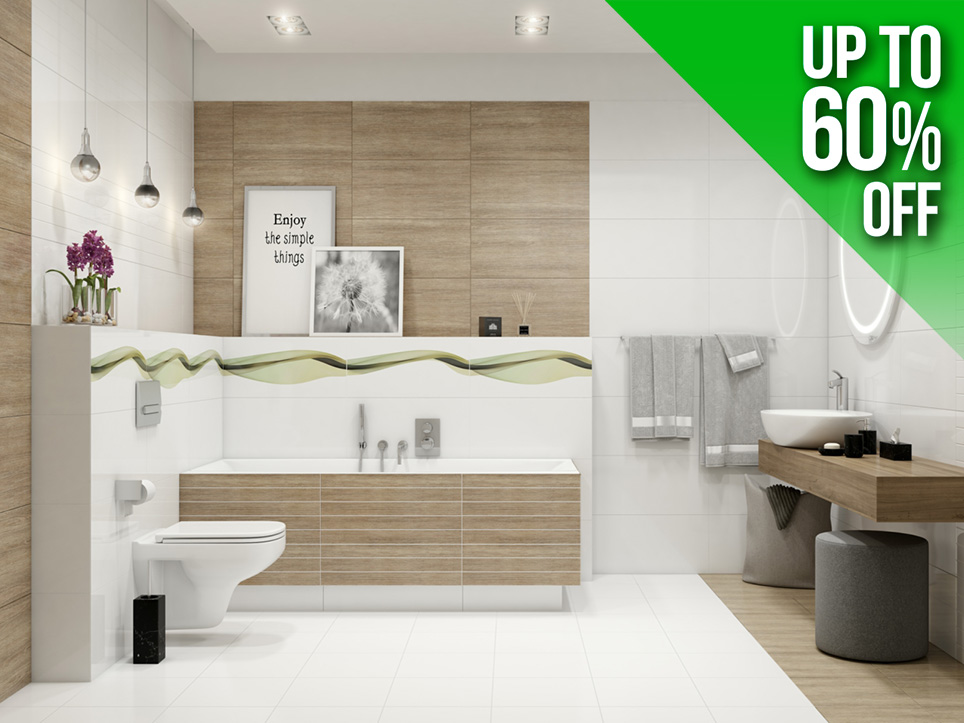 Includes gentle natural tones – white, green and brown. The wood grain, plant and abstract patterns build indoor designs full of positive energy.
View tiles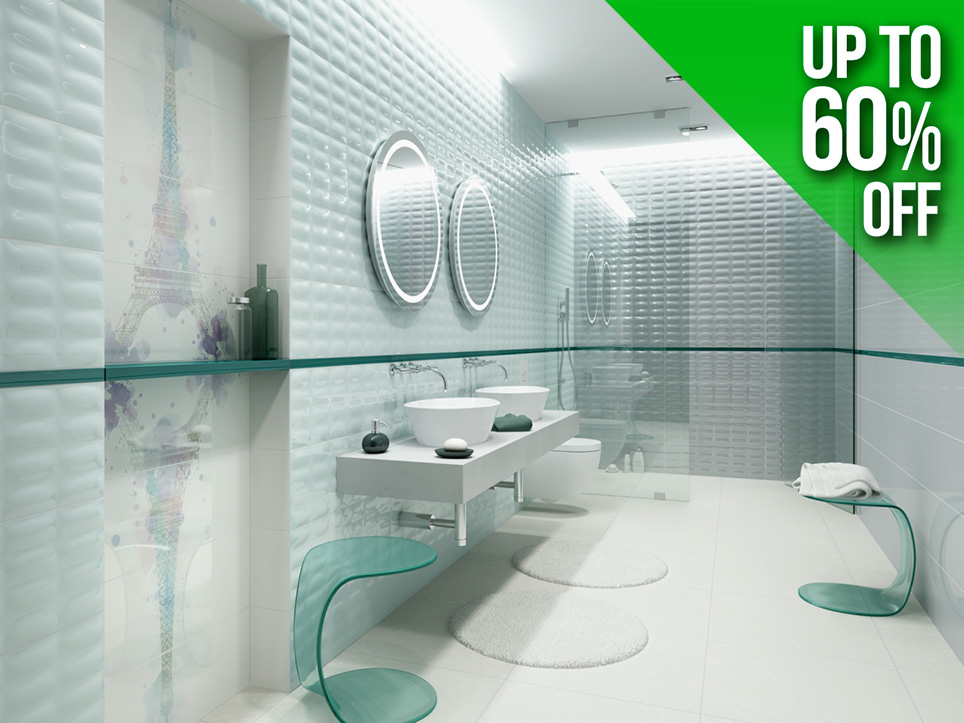 Feel the French style and elegance right at your fingertips in your own bathroom. The Eiffel Tower tile perfectly fits into with other tiles: white, grey and mint.
View tiles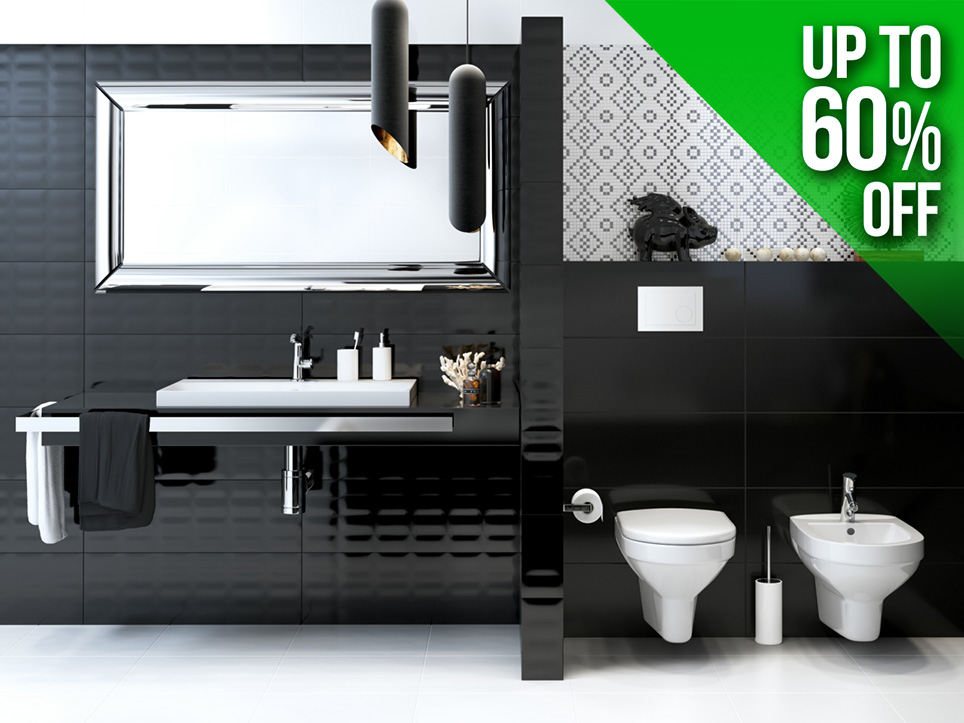 The elegance of black and white colours for your bathroom. Tile from the collection can easily create a fashionable bathroom in any style.
View tiles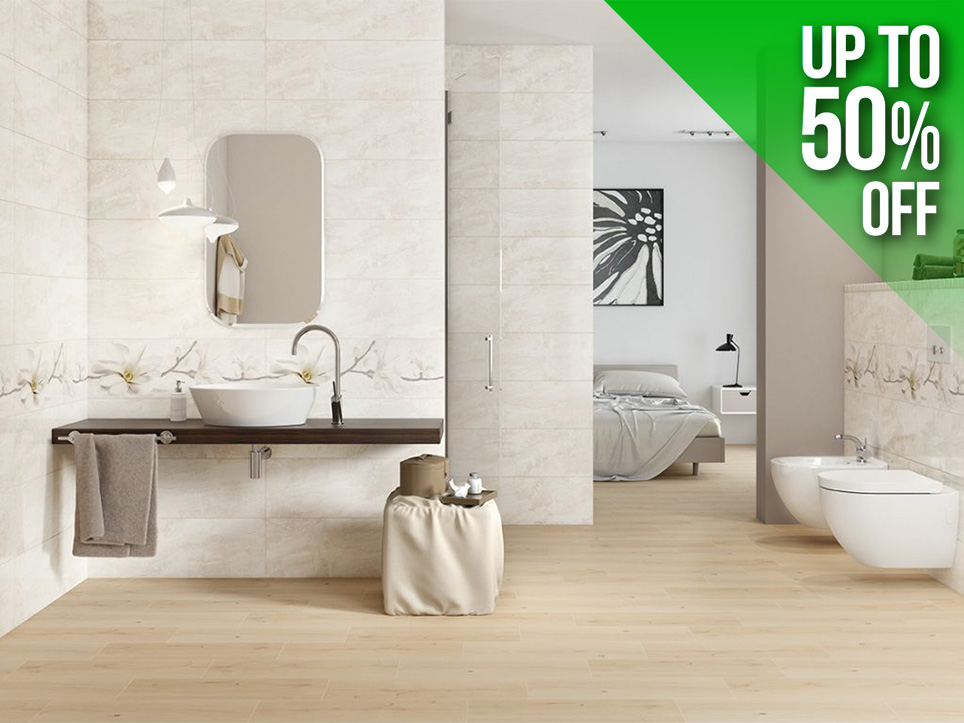 The nobility of the stone combined with a subtle floral motif allows to create bathroom interiors full of harmony straight from nature.
View tiles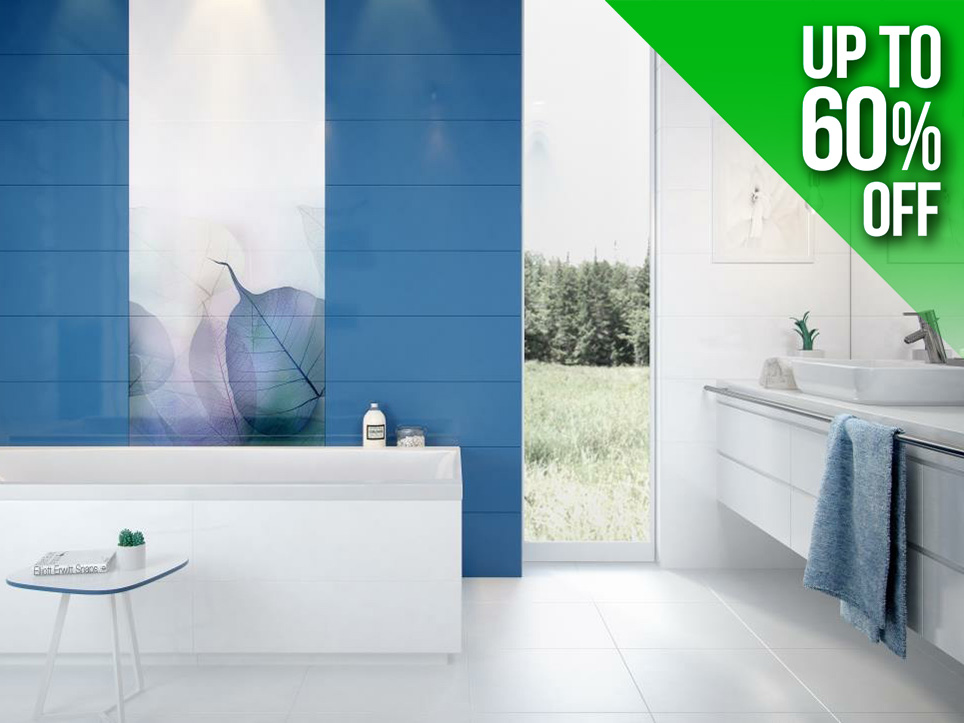 Strong and distinctive colours create attractive and interesting bathroom compositions. Base ceramic tiles are available in white, blue, violet and mint.
View tiles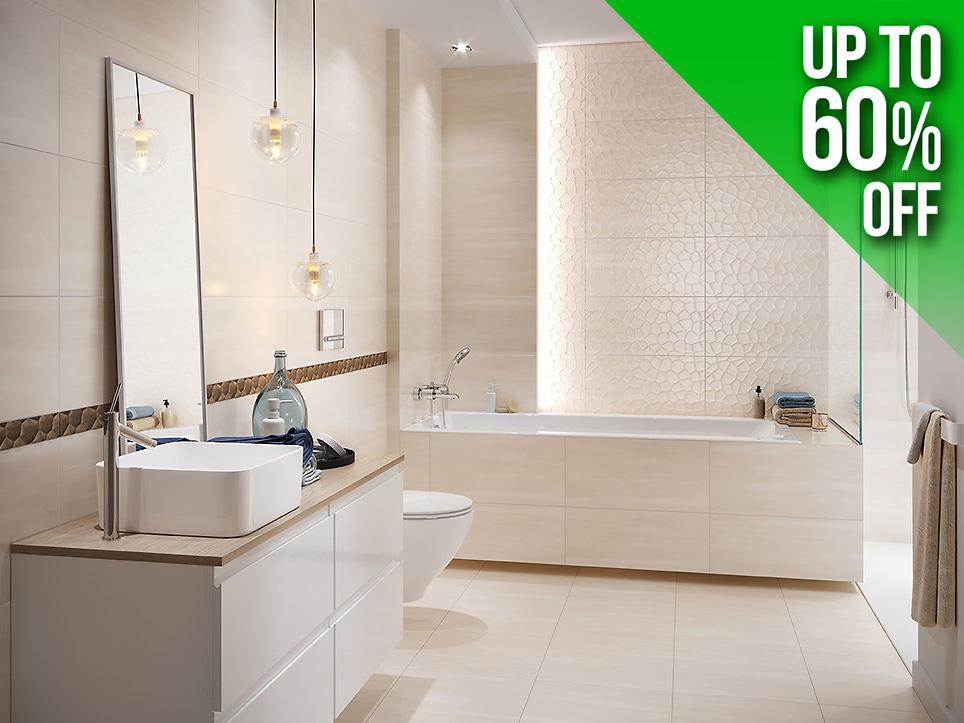 Inspired by the shades of warm, creamy stucco, the Calm Organic collection allow to create harmonious bathrooms where to relax pleasantly.
View tiles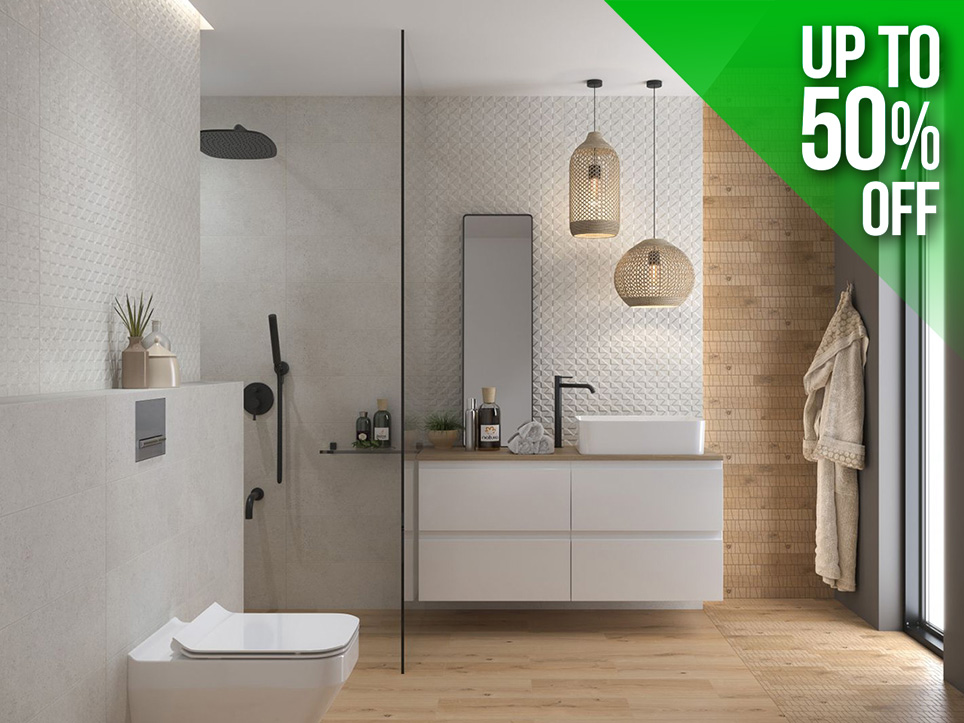 Raw, unprocessed feel of stone. The collection includes matt basic tiles available in two versions: smooth and textured.
View tiles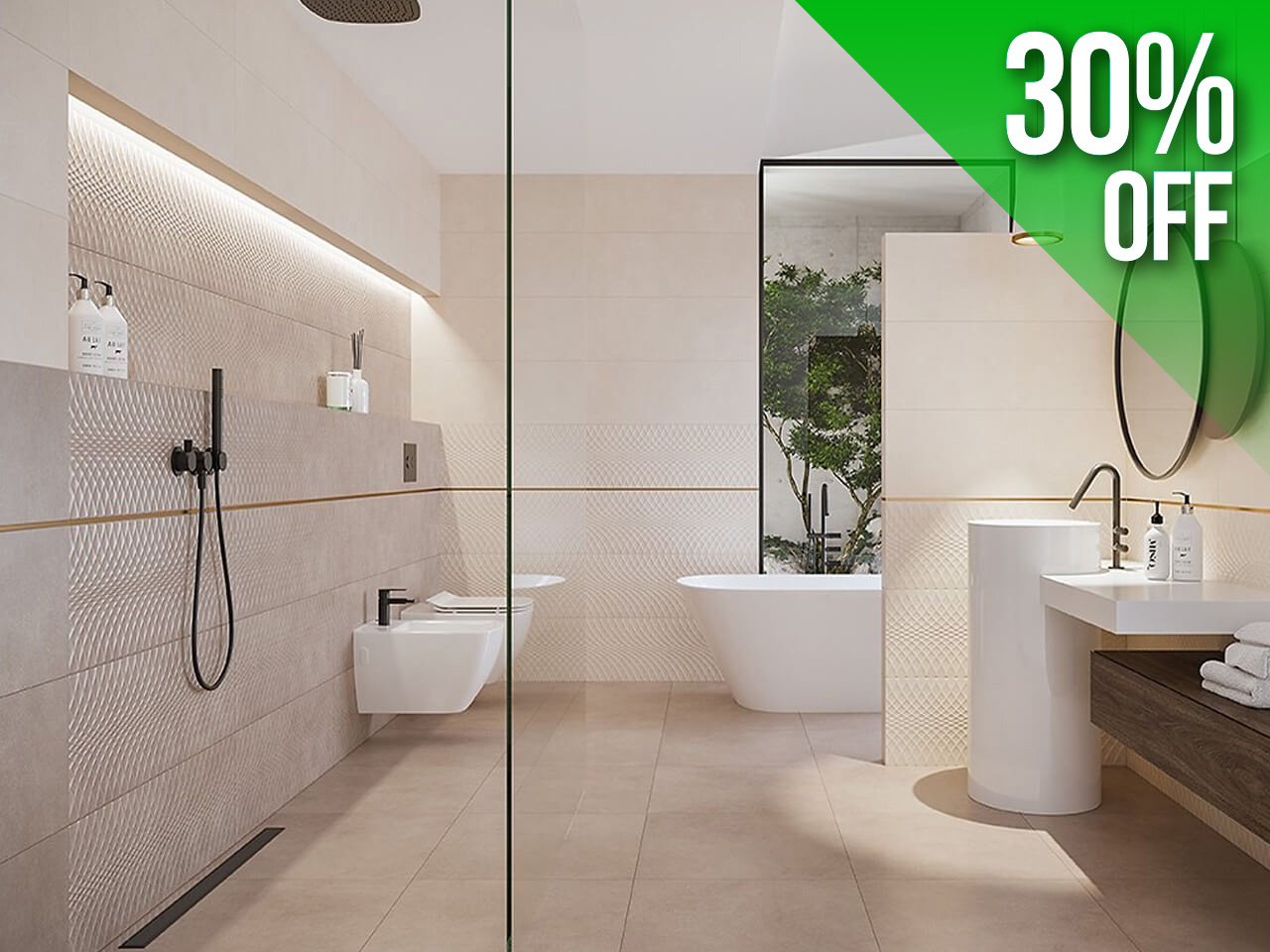 Concrete design ceramic tiles in earthtone colours. For a modern bathroom interior with a slightly harsh look.
View tiles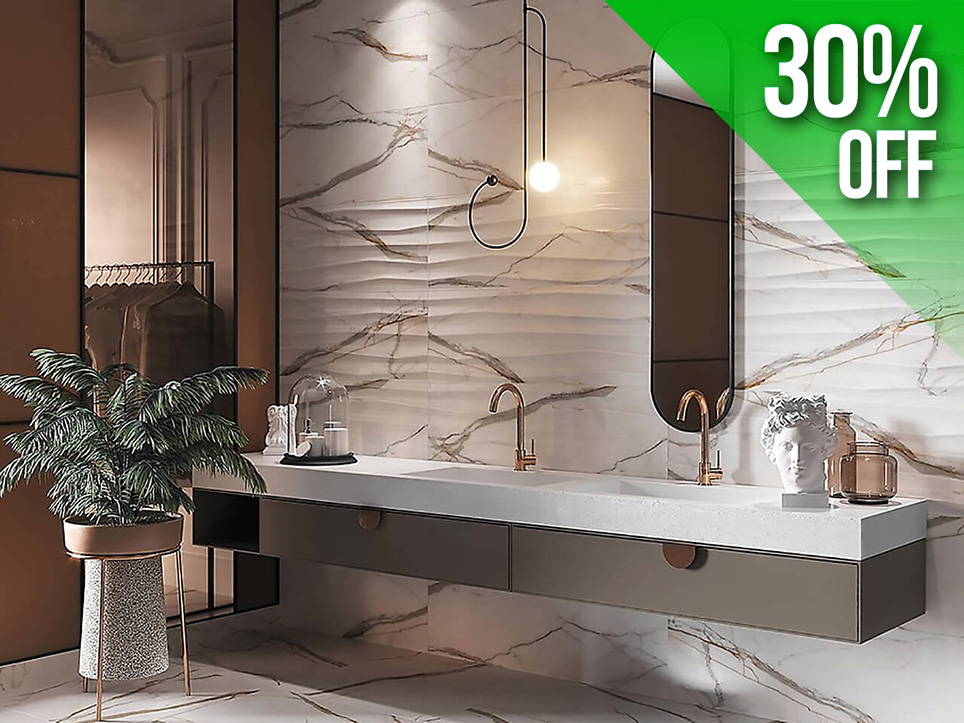 Cosima tiles give a feel of a sophisticated and classic stone bathroom interior. The collection creates a majestic atmosphere of purity and relaxation.
View tiles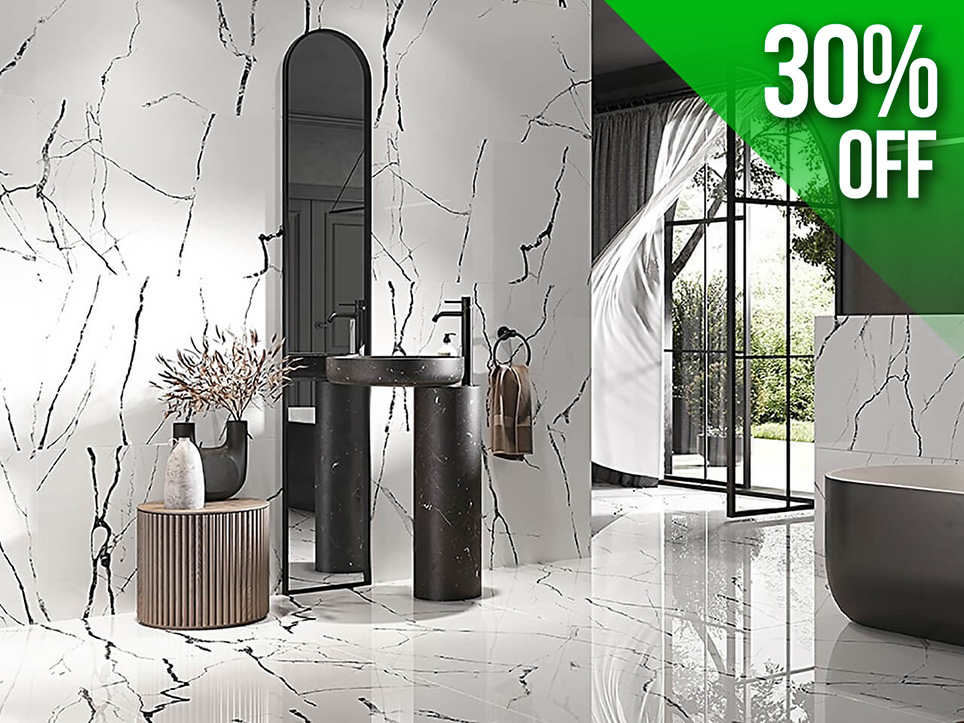 Eternal tiles are inspired by stone shades to provide a great natural look for your bathroom. Black & White tiles give a harmony and elegance.
View tiles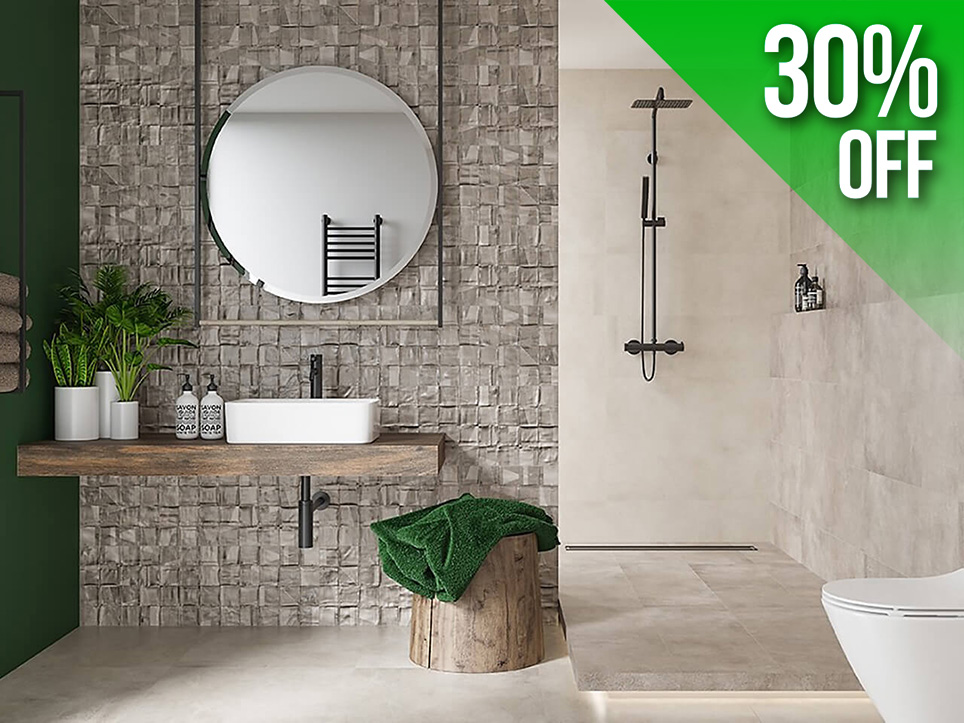 The collection is inspired by modernist simplicity in concrete material. It combines three perfectly coordinated shades: grey, ivory, taupe. The matt finish brings a subtle touch to the overall look.
View tiles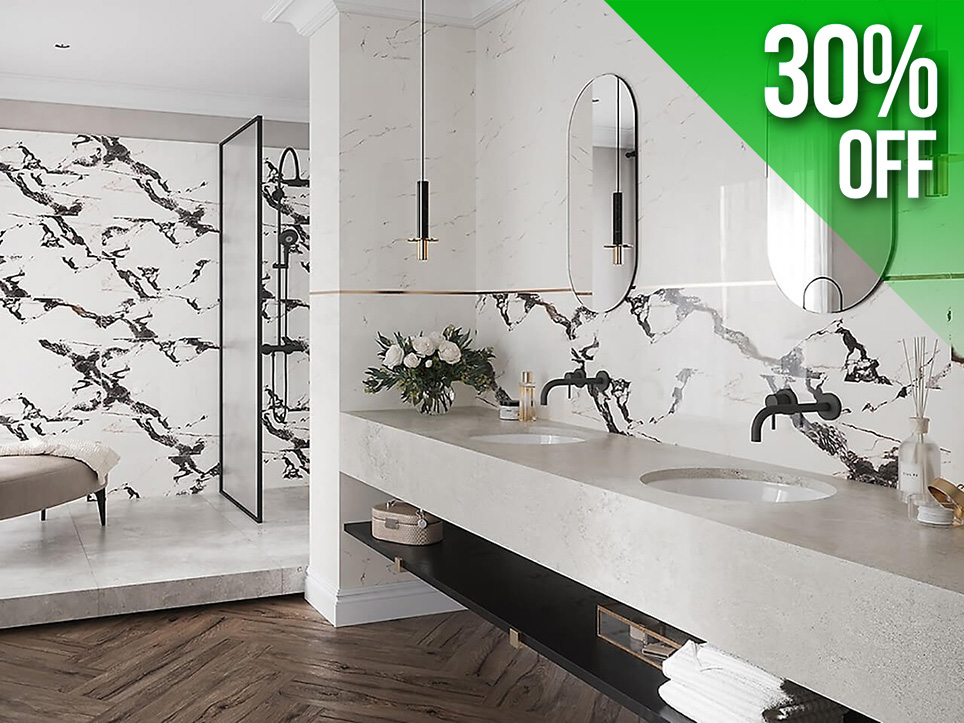 A classic design inspired by stone shades with a modern twist. Santis combines both very strong and extremely subtle stone graphics in shadows of white with dark veining.
View tiles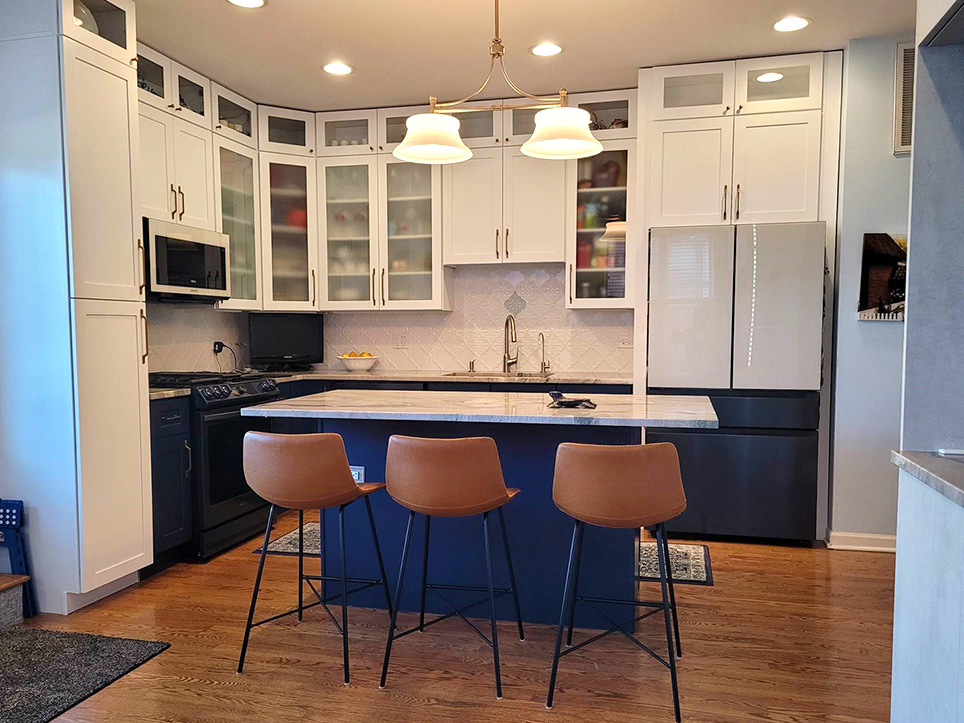 Conteporary Kitchen Cabinets
Elevate your kitchen with our bespoke custom kitchen cabinets or experience timeless elegance with our shaker cabinets. Contact us today to discuss your unique kitchen cabinet needs and let's craft your dream kitchen together. Don't settle for ordinary – make your culinary space extraordinary with us!
See Kitchens
What a smooth experience. We are doing a big renovation and on a pretty tight schedule. Working with Emilia was such a bliss. Everything that we needed, she had a solution for! They built a custom desk for my brother so we could actually fit one in his room. The vanities and all the flooring were great. The punctuality, understanding of our needs, and all the efforts to accommodate things we had no solutions for made this a truly special experience. Thank you for everything!!!
There are no words to describe how happy we are with the results. From start to finish, the experience of remodeling two bathrooms with Paradise Living has been nothing but a bliss! Ventsy and Emiliya had great ideas for the two designs after the initial consultation of what we needed. The showroom is great, with remarkable displays of different model bathrooms, giving you the idea of how different tiles, fixtures and vanities can blend in together. The initial process of deciding on the design was flawless.
Next came the remodeling and installation. Even better. Everyone knows how stressful a home project can be! Not with Ventsy! As in any project, different challenges arise or some changes and adjustments need to be made to the initial project. Ventsy was understanding and flexible, taking care of everything without even addressing it as being an issue. He was meticulous to his work, making sure everything was done properly and to the standards his company promotes. He and his crew were punctual and unbelievably clean. You could hardly tell there was construction going on in the house.
Final thoughts – We are really happy with making the right choice and using Paradise Living for our Bathroom Remodel needs. It met our desire for a contemporary european style design, high quality materials and meticulous work, attentive to the smallest detail. I wholeheartedly recommend Paradise Living for your bathroom and kitchen remodeling needs. Speaking of which, we will be definitely using them for our kitchen remodeling project which is happening soon. I suggest you do the same, you would not be disappointed!
Our new kitchen is beautiful. We now love cooking and having company over in our new space. We have had our kitchen installed for a few months and we have gotten a number of compliments on the functionality and design of our little space. The kitchen cabinets are functional, spacious, and easy to clean up. They are very sturdy, beautiful, European quality.
We are very grateful to have met the Paradise Living team – Ventsi and Emiliya. They stand behind a supreme quality and excellent customer service. They have the design expertise, the knowledge, and the intuition of how to bring different products, colors, and materials to work well together. We kept the same kitchen layout, but we have at least 40% more functional, easy to get to storage space.
The initial consultation, the design process, the delivery, and the post-delivery inspection were flowless and peaceful. Any homeowner who has done a remodel project knows the feeling of anxiety and distress. We did too. But Paradise Living handheld us every step of the way and helped us feel at ease.
The working process with them was very pleasurable and we appreciated all the additional tips and consultations. Ventsi & Emilya really went beyond prior to and after the installation. They kept their timelines and promises, and they delivered beyond our expectations. We felt like they designed our kitchen with exceptional care, positive energy, incredible support, unconditional love, and attention to detail.
Thank you, again Paradise Living! We are grateful! Keep doing what you love and help others with their design needs!
Modern, unique and high quality tile selection which you won't find in any other store. Owners are very knowledgeable when it comes to bathroom design and will give you great ideas and provide excellent customer service. Very happy with our purchase. Highly recommended.
I highly recommend Paradise Living for anyone looking for beautiful, high-quality Ceramic tiles and bathroom equipment for a reasonable price. They worked with me to figure out a bathroom layout to make the most of my relatively small bathroom. I'm already looking forward to working with them on future bathroom projects.
Excellent place to select tiles, plumbing, bathroom accessories, and kitchen cabinets. Always ready to give you an advice and orient in the right direction concerning the color and style which is important when selecting components for a kitchen, bathroom, or mudroom. Positive attitude and professionalism of the business owners makes it easy to come back again and again to the "Paradise Living". We are very glad that we have discovered this place for ourselves. – Olga
Love the Quality of their cabinets and vanities. They pay attention to detail & ensure all right items are ordered and delivered in timely manner. Free consultation and amazing customer service. I will be recommending them to family and clients.
I've remodeled my kitchen and bathroom with Paradise Living and I could not recommend them higher . Emiliya and Vince were amazing. They came in to my house, took measurements, offered installation. Their shaker style cabinets are great! Also we did the whole bathroom with them, from vanity sink tops to tiles. I have not seen any other place offering such tiles. From quality to variations. Thank you Paradise! Keep up the good work!
Emiliya, the owner, has been terrific! I've fully remodeled the kitchen and the dining room with additional cabinets, coffee/wine bar. Emiliya contributed creative ideas and patiently changed the options several times for me while I was trying this and that look of the cabinets. She aimed to keep the project on target and helped recommending a reliable installer. We are happy with our new cabinets and highly recommend Paradise Living!
A place where you can find everything to realize your project. Different, stylish products that change the design of every bathroom. Emilia and Vency wonderful and smiling people with a good attitude who help with all kinds of ideas, recommendations and drafting a project to choose the best for you.
I recently had the pleasure of visiting a tile store that imports their tiles from Europe, and I must say, I was thoroughly impressed. Not only do they have a wide selection of beautiful tiles, but their customer service was exceptional. The staff was knowledgeable and able to answer all of my questions, making the selection process a breeze. Overall, I highly recommend this tile store for anyone in need of high-quality imported tiles and excellent customer service. Thank you, So much!
Paradise Living is the one stop store for your bathroom renovation. Elegant and contemporary tiles and fixtures coupled with the owners' expertise and suggestion are the recipe for a successful remodel. My family used the services of Paradise Living for two bathroom renovations and we could not be happier of the results. We will be recommending Paradise Living to anyone who is interested as well as using the store services for our future bathroom and kitchens renovations.
We used this company for the entire renovation of our house, which included designing and providing materials for the kitchen, two bathrooms, the dining room, and the laundry room. I highly recommend them to all my friends. You should visit their store and see for yourself.
We had a great experience with Paradise Living, they helps us select tiles that matched our vision and created a 3D model for our bathroom project free of charge, for our kitchen project they also created a 3D model, advice us on what to choose and give us wonderful recommendations. We trusted their experience and expertise and had a beautiful updated kitchen and bathroom. From selection to installation they helps every step of the way. Thank you!!!
Found this shop while searching for a wood vanity cabinet as I didn't like what the big box stores offered. Ended up buying high quality tiles and fixtures that transformed my bathroom. Emiliya provided excellent advice on the design and was so helpful. She was so patient as I had anxiety over making these decisions. The personal service I received was excellent and I found their pricing to be fair and competitive. Thank you for helping me walk through this project! See before and after! Waiting for my shower doors to be installed.