Description
Modern Tankless Smart Toilet with Superior Efficiency
Discover the perfect addition to your modern bathroom – our sleek and innovative tankless smart toilet. Experience the ultimate in convenience and efficiency with incredible features:
Effortless flushing, Unmatched durability, Instant and Safe Heating, Fresher Air & Cleaner Bathroom, Eco-Friendly Dual Flush, Refreshing Bubble Wash, Convenient Seat Control.
Upgrade your bathroom with our contemporary tankless smart toilet and revolutionize your daily routine.
Gloss white finish smart toilet with foot sensor for flushing
The nozzle is made of 316 stainless steel and added with MO element for improved corrosion resistance and high temperature strength to prevent bacterial growth/li>
Built-in ceramic core heater, using water & electricity separation tech, instant heating, safe and less hidden dangers
Toilet air purifier using double filtration to decompose bacteria, and effectively remove odor, leaving the bathroom with fresh air
Toilet seat automatically opens/closes (also remote controlled)
High efficiency dual flush (1.28 GPF)
Aerated bubble wash tech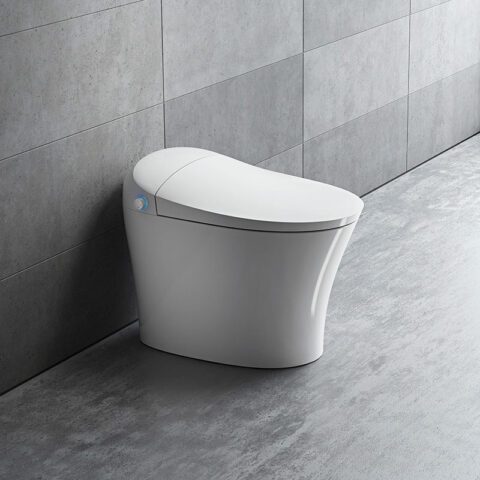 cUPC Certified & ETL Listed
Standard 12″ rough in
Dimensions: 25.6″L x 19.8″H x 15.6″W
Seat Height: 16.5″
Net Weight: 94.8 lbs
Smart Toilet
Wireless Remote Control